Luxembourg, a tailor-made framework for high-end life insurance
Luxembourg is a major multicultural and multilingual financial centre at international level.
With its AAA rating, it offers unparalleled political, economic and social stability for private investors looking to secure and preserve their assets.
As the European capital of private wealth management, Luxembourg is recognized for its creativity and pragmatism, demonstrated by its wide range of services and innovative investment solutions for international clients.
The security triangle of Luxembourg life insurance
The Luxembourg market offers a triangle of legal security which was further reinforced by the law of 10 August 2018 on the insurance sector.
The Commissariat aux Assurances (CAA), the supervisory authority, regularly monitors ALL industry players.
A custodian agreement is signed between the CAA, the insurance company and the custodian bank è the segregation of assets aims to protect the insured from the possible bankruptcy of the Insurer or the custodian bank.
This security triangle offers a unique protection in Europe.
The privilege granted to insurance creditors (policyholders) is sometimes called "super-privilege". It is a key element in the protection of the assets of creditors of insurance policy taken out with a Luxembourg company. This status allows them to recover claims relating to the execution of their insurance policy before any other creditor of the insurance company - notably the State, employees and social security bodies.
·All life insurance policies linked to investment funds and all life insurance policies with guaranteed returnsare subject to different assets. Each of these assets is reserved primarily to the execution of the commitments of the corresponding policies.
·In 2018, the initially existing "super-privilege" became a "high-end privilege" and is, in fact, considerably strengthened compared to the previous law.
Source: Association of Insurance and Reinsurance Companies
The proximity triangle
As the leading financial centre in the euro zone, Luxembourg boasts a highly-prized central location between Brussels and Paris.
Luxembourg has developed a financial ecosystem in its own right in which fund managers, private banks, financial sector professionals and insurers work together to offer tailor-made financial solutions to their clients.
The serenity triangle
Luxembourg offers policyholder protection that is unique in Europe. In Luxembourg, the holder of a life insurance policy has a privileged status in the event of default by the insurer.
Below is what AXA Wealth Europe calls "the serenity contract", which lists all the advantages that allow you to better secure your savings: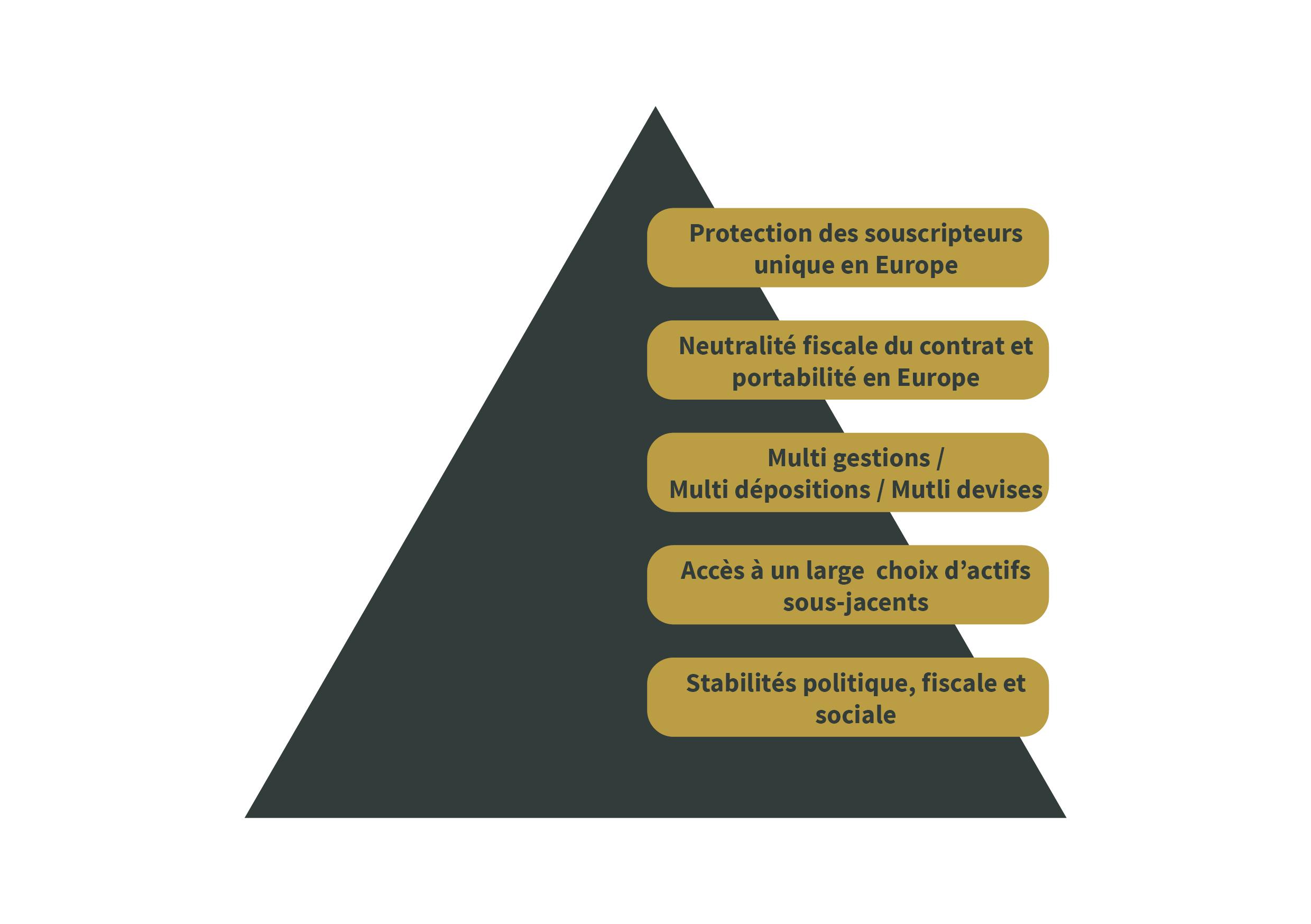 These three triangles form the cornerstone of successful asset management, in order to constantly adapt to the needs of partners and policyholders in line with an unflinching level of qualitative and quantitative requirements.